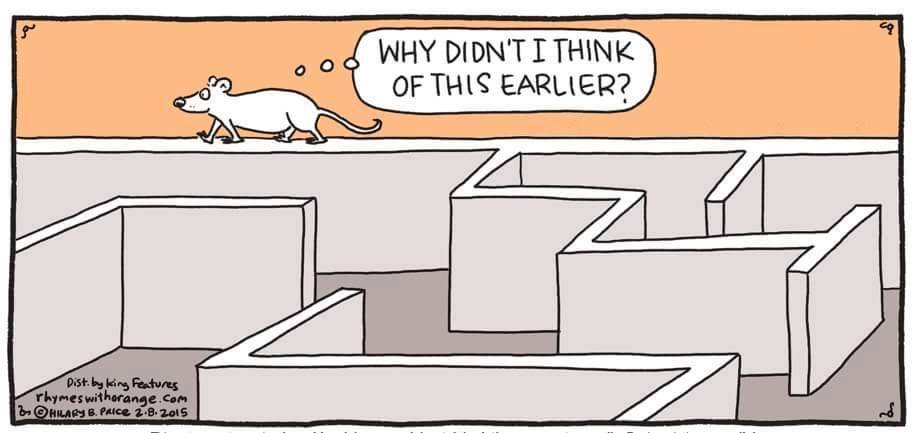 I like this mouse picture because it shows a new perspective can completely transform a problem. There may still be difficulties, now you can see where you're going. What was overwhelming becomes clear.
I hope to help people make these kinds of shifts in all the work I do. But learning alone isn't everything. Breaking habits is hard. Trying to think your own way out of a problem is hard. And it's particularly hard to soothe your own emotional triggers.
If you're feeling stuck, overwhelmed or confused, it's probably more effective to have one-to-one support to unlock your particular challenges in your particular situation.
"Thank you for this light at the end of my tunnel"
Therapy and Coaching Can Help You
Heal difficult emotions and triggers. Your thinking brain is driven by your emotions. That's why it's hard to think straight when you're anxious or upset. I can help you soothe old triggers, calm fears, and learn how to feel more balanced and confident. This helps you be at your best when you're tackling other challenges.
Get clear. Like the mouse before it stepped out of the maze, it's hard to see clearly when you're in the thick of a problem. The way human brains are arranged means we tend to get overwhelmed or slip into disempowering, self critical or negative ways of thinking. I can help you get clear so you know where you're going and what to do next.
Make changes. Effective change isn't just about feeling better here and now. It's also about building new ways of being in the world. Most sessions, we will agree something you will do and a plan for how you will do it. In one-to-one work, this can be tailored specifically to you. This means you're much more likely to actually do it than if you just think it to yourself. And we'll use the feedback from how it goes to help you take another step next time.
Coaching and support over time. My background is as a solution focused therapist. That means I keep reflection geared towards helping you as effectively as possible in the present. Having said that, there's a great power in having support over time. It's a compass to keep you moving in the right direction. It's a sounding board to clarify your thoughts. It's a safety net for when things go wrong. It's a motivator to keep you moving forwards.
"Working with Andrew allowed me to see where I was getting in my own way and unravelled some of the thought patterns that were leading to certain results. He set challenges that were pitched at the right level to put me out of my comfort zone without being overwhelming."
Liz
Releasing the Past and Moving Into the Future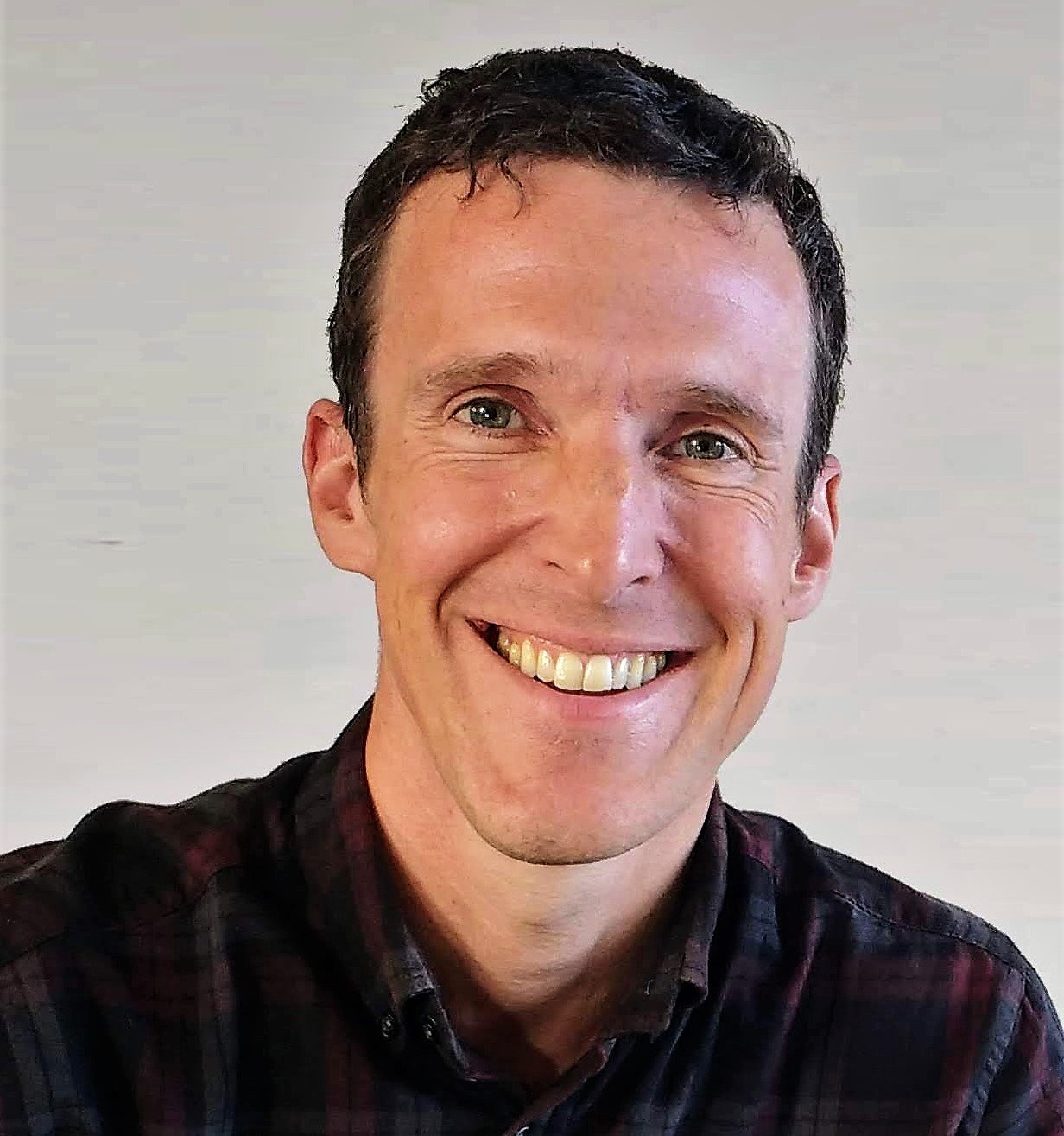 I use therapy and coaching side by side.
People use the words differently but roughly speaking, therapy is about healing and integrating experiences from the past. Coaching is about helping you move forwards in the present and future.
Coaching helps you steer your car. Therapy helps you release the brakes. Most of the time you need to do both. Otherwise you can get caught in either too much analysis without any forward direction. Or trying to move forwards too quickly then getting caught up in old patterns later.
The way I work, if you were suffering from emotional triggers from the past and that was getting in your way, we might spend some time helping you heal those feelings through understanding, visualistions and movement practices. That's more like therapy.
At the same time, as you began to feel better, we would start helping you bring more positive experiences into your life. So that would be more like coaching.
We do what is most useful to you. Usually that involves both releasing the past the moving into the future.
"I went to Andy to get clarity surrounding boundaries and things I felt I 'should' or 'shouldn't' do when thinking about my career and life in general. Very helpful also was starting to think about paths and routes in your life as something that is not fixed, but made by you – scary and exciting at the same time. Being given a different perspective on things you struggle with is like breathing a sigh of relief. Everything gets a bit lighter. So thanks Andy!"
How Does It Work?
Therapy and coaching with me usually follow a weekly rhythm.
You email to ask if I can help with something.
I reply to say what I can and can't do and give some initial advice if I can.
You decide if you'd like to hire me.
If you do, we schedule a time and you pay.
We 'meet' by video call online usually for about 1-1¼ hours.
I send you a recording of the session and any follow up notes.
I email you a few days later to see how you're getting on and help keep you on track.
If we have planned a series of sessions, we repeat steps 5, 6 and 7.
So although we talk live once during the week, support is there for you through the week if you need it.
Isolated Issue: One week – £60
Most useful for:
Specific localized problems. Most of your life is going OK, but there's a clearly definable set of circumstances that's getting you stuck. E.g.
"I've got this situation coming up and I don't know what to do."
"I'm fine most of the time, but when this happens, I lose my confidence."
"I'm doing OK, but I've got myself in a tangle about this one thing and I'd like to get my head straight around it."
Includes
Email enquiry and initial advice
Online video session at mutually convenient time – approx 1-1¼ hours
Recording of our session
Notes on next steps
Email feedback and questions during the following week as you implement what we have talked about
Change a Pattern: Six weeks – £300
I always help you make changes as efficiently and effectively as I can. And it is easy to 'get' an idea. But to build new ways of being – to feel more comfortable in yourself, build more supportive habits and ways of showing up in the world – takes time.
If you wanted to get fit, you'd know that just the idea 'I should do some exercise' isn't enough. You need the structure and support to put it into practice.
So if you have had a pattern for a while or it shows up in several areas of your life, it's usually better to arrange six sessions over six weeks. That's enough to time to loosen old feelings and negative thinking and start making some real changes in ways that stick. It's also enough time to find some parts difficult and get past that. If it was easy, you'd have done it already.
To help you do it, I give you £60 off so it's six weeks for the price of five.
Most useful for
Healing and moving on from emotional difficulties
Patterns that keep showing up in your life
Building confidence and skill in tackling a range of situations
Always putting yourself last, self criticism, fear of conflict, confidence, self esteem, assertiveness skills
Adjusting how you engage with life to help yourself thrive
Includes
Email enquiry and initial advice
Online session at mutually convenient time – approx 1-1¼ hours
Video recording of our session
Notes on next steps
Email feedback and questions during the following week as you implement what we have talked about
Usually repeated over six weeks, although you can use the sessions 'as and when' or spread them out over a longer period if you prefer
If you'd like to ask about a problem you're experiencing, either email me at [email protected] or use the contact form here.
Payment
If we've agreed a time and you'd like to pay, use this form here, which will direct you to a secure Paypal page, where you can pay by Paypal account or a debit/credit card.
If you would prefer to pay by BACS bank transfer, use the account details I sent you when I replied to your query.
If you would like an invoice in order to claim therapy and coaching as a business expense, then let me know.
Waiting for PayPal...
Validating payment information...
Waiting for PayPal...